Take part in an amazing adventure that will help you increase your self-confidence and find the right professional path. It's absolutely free of charge!
You are finishing your education, or maybe you have interrupted it, started working and you don't feel like it's something you want to do in your life. Are you wondering about your next move?
Are you looking for an idea for the future?
Do you live in Mid-West Region?
Are you 18-29 years old?
If so, we have something for you!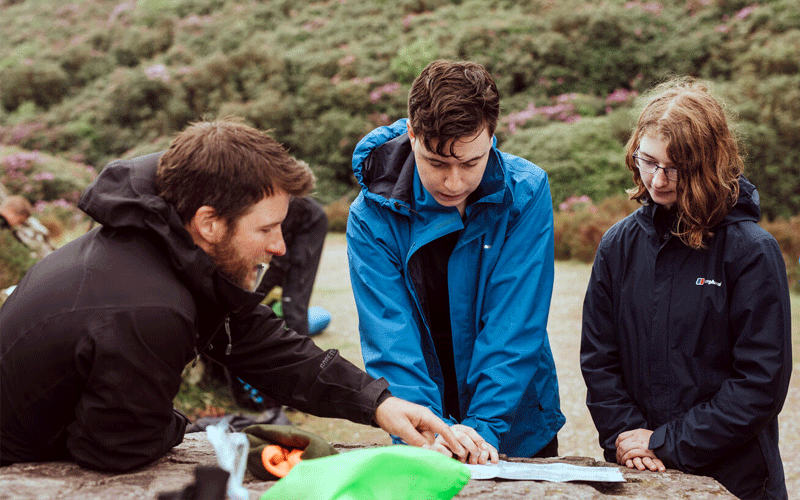 Join the project "From outdoors to labour market" (FOLM)!
What you can experience:
Exciting, one-week-long expedition with all the equipment included (food, clothing, gear)

.

Due to Government guidelines the FOLM project has been adapted from a 7 day expedition to a 5 day outdoor learning experience between 10am and 4pm in line with COVID19 safety measures

.

Individual meetings with coaches

Contacts with employers

Participation in creating a creative and friendly FOLM community.
FOLM participants share their opinions about the project:
"I started this journey not knowing what to expect. As I progressed further into the mountains and getting to know my team mates better, I felt as if a weight was slowly being lifted from my shoulders. I felt my confidence returning. The silence and beauty of the mountain and sharing experience with my newfound friends gave me a natural euphoria unlike anything I had felt previously. I've learned to accept myself for who I am and not for what others think I should be. I needed to help myself and I have discovered that I couldn't have achieved this alone. I can now ask for help when I need it and I know that I'm stronger for it.

FOLM gave me my voice back. It showed me that even if I fall, I have the power to get up and move forward. FOLM gave me the chance to change my life and I haven't looked back. Working with the amazing people at FOLM has empowered me to reach for my goals. I am now going back to college in Galway for 4 years. FOLM have given me the chance to get my driving licence. They are giving me the chance to help others like myself that were lost and who are trying to find their way back. I could write a book about my time on the Knockmealdowns. But that was my journey. FOLM is here for everyone. Why don't you contact them and start your own journey?." Daniel.
"The FOLM experience for me was fantastic as I met new people by going on an adventure with those people for a week up the mountains. Waking up to a view of the mountains was magnificent. Learning about the outdoors from our Outdoor Trainers Ged and Peter was great. The knowledge that they both had was just unbelievable. Ged and Peter helped with me learning about myself. Helped with my confidence in myself. They were amazing to be with. The other participants who also were on the adventure were great and I made great connections with them. We worked together on finding out who we were individually. Helped each other through difficult obstacle on the adventure. We laughed together and fell down together and got back up. I have learned so much about myself. Learned that I am my own unique person. The confidence I have gained in myself is something I never thought i ever have.

I remember when they told us we weren't allowed our phones I was absolutely freaking out as I was so worried about social media. I didn't even miss it once it was actually a relief to just switch off from social media. The stigma of social media was something I always thought was needed to be perfect. Learned I needed to be happy with myself was what perfect was. Views of the sunrise when rose in the morning to tackle the day was breathtaking. View of the sunset before night falls before we set into out tents was breathtaking. While hiking views on our journey to our destination for the night was spectacular. We camp in a different location each night we would hike to next location each day. It was just great with really great people around me. To just be happy who I am and have so much confidence from what I learned during the week on the mountains." Stacey.
"The FOLM experience was brilliant, it gave me time away from my daily routine to see what I should change about it. The sense of accomplishment after finishing the camping gave me a big boost that lifted my self-esteem for months. I found a found a new respect for nature and being out there without technology made me realize I can have good conversation and communication without it. The course is something I think could benefit anyone from any walk of life." Michael.
"The FOLM outdoor week was a break from everything, it was so healthy not to be stuck in my phone and miss all the stuff that is going on around me. On the trip I found a new respect for nature and the world around you, the Outdoor Trainers thought us about leave no trace and when we found any plastic on the mountain it made be angry and we'd pick it up. The outdoor week involved constant responsibility, we had to boil our own water, know where every piece of kit was and keep the camp site tidy. It was cool learning new things in FOLM for example our basic human needs: freedom, survival, love & belonging and self-worth and these are tools that I still use now. FOLM helped me make a plan." Max.
"Being a part of FOLM helped to build up my confidence so much that people could see a difference when I returned home. Being up in the mountains without technology helped to clear my mind and get back to nature. Seeing nature so close up helped me to get inspired for my photography. Meeting new people during this and bonding so quickly made the experience better than I thought it would be. Not just the other people participating but also the trainers. The trainers were so well informed about everything that it made everyday fun and informative. They were well equipped for anything; they were easy to talk to and to get along with. Since FOLM I have participated in 2 fundraisers, I've signed up for 4 more, including a mini marathon. This is thanks to FOLM, it helped me get back to nature and find something that I love." Miranda.