Take part in an amazing adventure that will help you increase your self-confidence and find the right professional path. It's absolutely free of charge!
You are finishing your education, or maybe you have interrupted it, started working and you don't feel like it's something you want to do in your life. Are you wondering about your next move?
Are you looking for an idea for the future?
Do you live in Warmia and Mazury or Podlasie?
Are you 18-29 years old?
If so, we have something for you!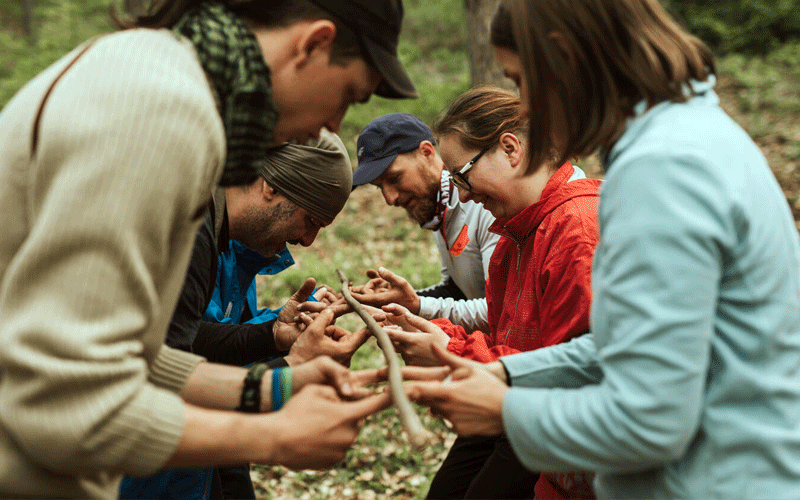 Join the project "From outdoors to labour market" (FOLM)!
What you can experience:
Exciting, one-week-long expedition with all the equipment included (food, clothing, gear)

Individual meetings with coaches

Contacts with employers

Participation in creating a creative and friendly FOLM community.
FOLM participants share their opinions about the project:
"There is no time to think during the day while in the woods. But when you stay alone with yourself in the evening, you wonder about everything that happened and your mind begins to put pieces together. Then, you can appreciate what you have. By meeting other participants, some of them with many issues in their lives, you may change the way you think. The trainers are well prepared for any problems or emergencies. They give us inspirational feedback that helps to look at other people and start finding answers or future goals. This project opens our eyes to our own possibilities. Although several weeks have passed since the end of the expedition, my plans are still valid. I stick to the chosen path and the coaching sessions, that I take part in, help me a lot." Jakub.
"Only the first night in the woods was actually painful for me. But a bottle of hot water in a sleeping bag can work wonders. When I think about it, I remember it was a fantastic adventure. The whole process that I went through during the FOLM project brought specific changes: I built my self-confidence and started to believe in myself, which was something that I always lacked. That's why I took on jobs that were not for me. Thanks to the trainers and coaches I was able to plan my goals and even achieve most of them. First of all, I made my professional career a passion. I did an internship, and then I got a job at a horse farm. I also got trainer qualifications, so now I can teach how to ride in the saddle. And I love what I do. To those who do not believe that passion can be turned into a way of life, I declare: it is possible!." Anita.
"Thanks to participating in FOLM, I began to see myself in a different way. I am becoming more open to the world and other people. Situations that require confidence and courage are not a huge problem any more. Thanks to psychological and mentoring support, I took actions aimed at professional development. Now, I have more ambitions, but I also see various possibilities of realizing my plans. I support the Food Bank as a volunteer, thanks to that I am gaining experience. From the start, I treated this program as an opportunity to take on new challenges and change the current, rather boring, lifestyle. I recommend participation in this international project to everyone who wants to experience an interesting adventure, and at the same time think about their goals, dreams and work on their own personality." Kajetan.
"Like every other participant in the project, I initially had concerns:

Whether I could manage without contact with civilization, whether the other participants would accept me or if I will lose time there. But once it starts, it turns out that you can do it. You just take challenges and start doing more than you'd ever think you were capable of.

Of course, the group gives support because we're all at a similar stage in life. This experience completely redefined me. First of all, I learned to listen to myself. What's more, I learned what my strengths are — what I'm really good at and what I should avoid. This resulted in a metamorphosis in self-perception and courage to make dreams come true. Even those that seemed completely out of reach." Sandra.